Post by tlryn on Aug 13, 2011 20:50:44 GMT -5
●●Character's Name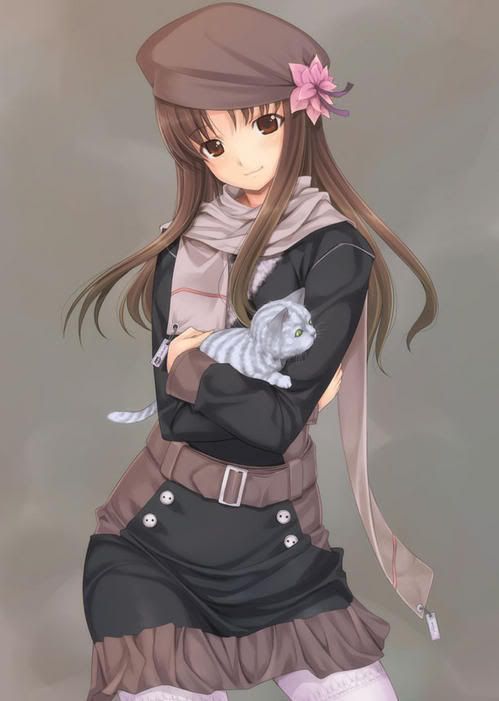 Title: TenTen Chang, at her Middle school she was known as the "princess of Darkness"

Age: 14

Sex: Female

Personality: TenTen is a smart, independent, and clever young lady. She is quiet most of the time, and appears to dislike being around people, however she is very protective of her friends and teammates (although she doesn't like to admit it). She devotes most of her time to her studies and seems to have her head stuck in a book or three. She has a tendancy to push people away that try to get to know her by her sarcastic and blunt remarks (insults). Some have grown accustomed to her unusual charm and others tend to avoid her completely. Getting to know her seems to be difficult at first, however once the person earns her respect enough to be considered a friend, Tenten becomes very defensive, sometimes sacrificing her own good for the good of her friends. Tenten has a short temper and is easily provoked, however she excels in hand to hand combat and is actually stronger than she appears physically. At first her opponent is caught off guard due to her delicate stature, but she rarely ever loses a fight. She also has a high tolerance for pain, so bullet wounds and deep cuts don't seem to bother her. Unlike most girls, she doesn't seem to cry or complain. However, Tenten is very fashion conscious and almost always dresses appropriately. She can fight in any attire (including heels and skirts). She is very sensitive about her "underdeveloped" body, and starts fights with anybody who dares make fun of her figure. Although she is physically strong and flexible, Tenten is not athletic, refusing to join any sports teams at her school despite her mother's and her sensei's pleas. She is absolutely clueless about romance and hates to admit when she does end up crushing on a boy. She has one lifetime companion, a cat that was born on the same day she was that her family named Bell. Bell, being a small and "underdeveloped" like tenten always stuck by her, often getting her out of trouble.

Bio: Born and raised in the big city of Hong Kong with her father, Wu Chang and her mother, li Chang, and her cat Bell. she was a very happy, and very normal grade schoolgirl. Tenten loved to make people smile, and she had man yfriends and admirers all through elementary school. Her father began her martial arts training as soon as she could walk. Afterschool, her father Wu would train her in martial arts (secretly for it was forbidden for a female to learn the art) however, since she had no brothers, and her mother could no longer concieve, her father had no choice but to pass the secret of the Wu Family to his only daughter. The fact that she was their only daughter also meant that her parents were very protective of her, often controlling her freedom, but Tenten paid no mind, for she loved learning the art of hand to hand combat with her father. Even before her birth, her father had long been involved in the chinese mafia, and after quitting his past still haunted him. Unable to pay them the cash due to them, the chinese mafia took their vengance by performing a raid on their house when Tenten was 6. She and her mother were forced to watch her father slaughtered before their very eyes. Unable to do anything, the mafia took control of her mother and of Tenten as if they were property. Her mother became a concubine to the mafia's leader, and forced tenten to become a "Japanese style Geisha". However, the Mafia Leader's son Bao (who was a year older than Tenten) saw her beauty and grace and convinced his father to train her to be his future wife. The leader consented and arranged for the marriage of Bao and Tenten when she turnes 20. Many considered this arrangement a blessing, for the wife of a Mafia Leader was as powerful as the leader himself. Tenten however, had no feelings for Bao, and snuck away instead to the Mafia Base's training grounds and trained with a kindly gentleman member who agreed to continue her training in martial arts. His name was Udong. Udong became Tenten's Martial arts sensie. One night, when Tenten was 9, she snuck out of the walls of the Mafia's base with Bells in order to roam a nearby park. Here, she found a shadow with her face and challenged it to a fight, she was surprised to find that the shadow was very ferile and vicious and had cat like features. On this night, she gained her persona. After beating the shadow, a strange marking appeared on her wrist (a dark blue sillouette of a cat's head along with the "bells of death"), and thus she gains her persona. On the day she turned 12, Tenten heard that Master Udong was to be sentenced to death by the Mafia leader for training her in martial arts. Tenten convinced Bao that if she won in a fight with him and two of the Mafia's strongest men that the leader must let Udong, her mother, and herself go to australia. The master, seeking entertainment in the little girls request and knowing that her death was soon to come, consented. She took a heavy beating, but none the less won the challenge and her mom's and master's freedom. They all fly to japan in order to start a new life. Tenten never gained her smile nor has ever gotten over the trauma of losing her father. She was a freelancer, fighting shadows until she was spotted by a member of the Underground and later joined underground.

Persona: Bells- named after her beloved Kitten, Bells is a nekomimi demon persona, and rises out of Tenten's wrath. She has a special affinity of ice (a result of Tenten's cold heart) and is summoned only when Tenten recalls the memories of her father. When Bells is summond, Tenten's mark glows and Bells arises from Tenten's own shadow (Therefore Bells can only be summoned around a light). Most of Bells's deadliest attacks come from when she sings, or plays a "shadow instrument" which is her weapon.

Alignment:The Underground

Theme Song: Hate you by 2ne1<iframe width="560" height="349" src="http://www.youtube.com/embed/NB5jyYD2WEw" frameborder="0" allowfullscreen></iframe>

Weapon: Tenten herself prefers to fight hand to hand combat, however she does manage to hide a small knife (given to her by bao) in her clothting. She has really good aim (making handheld pistols easy for her to use though she doesn't use them often). She is capable of fighting with a sword, although she rarely does. Bells (her persona) is equipped with "shadow instruments' which include (an electric guitar, a violin, a flute, drums, a keyboard)

Other: Tenten's academic excellence makes her a target for the Academic team-- she refused to join however she is welcome to their meetings and has some influence with club decisions
Tenten's excellence in martial arts made her a target for the Modern Kendo club and the Gymnastics club --both she refused to join outright (to her master' Udong's dismay). She talks to her cat Bell about everything-- and they're always together. Bells her persona is named after her cat Bell. Within the Mafia, Tenten was known as the "demon princess" especially after kicking Bao's ass.
[/color][/ul][/ul]
Read more:
shadowofthegenesis.proboards.com/index.cgi?board=rules&action=display&thread=3#ixzz1Ux0P1xQW